Tech Tools
National Guard Technician Tools
---
This page provides essential information, forms, contacts and reference materials for Federal Technicians.
National Guard Technicians of the Army and Air National Guard represent an essential part of the federal workforce. Federal employees provide the day-to-day continuity in the operation and training of Army and Air National Guard unit members.

The National Guard workforce is comprised of military technicians, competitive technicians and Active Guard Reserve (AGRs). Military technicians are required to maintain military membership in the National Guard in order to retain employment. Military technicians perform full-time work in their units, perform military training and duty in their units and are available to enter active military service at any time their unit is called to active duty.

The state Adjutant Generals, subject to federal regulations, are the designated employer of technicians. The Department of Defense, the Army and the Air Force, and the National Guard Bureau all oversee dual-status technicians.
CLASP WAIVERS
---
The Command Leadership and Staff Assignment (CLASP) wavier is used to grant a wavier for dual-status technicians who are assigned to Full-Time Support positions during their Inactive Duty Training (IDT) while working as a technician.

Per TPR 303: Federal Technicians in a command, leadership, or specific unit assignment require the Command, Leadership, and Staff Assignment Program (CLASP) memorandum.

TAG approved CLASP memorandums are auditable items for the HRO and must be archived beyond the actual period of the technician's actual CLASP assignment.

TAG has the authority to approve command, MOS, and unit of assignment exceptions for the following assignments: Brigade, battalion, company command, headquarters commandant, platoon leaders, command sergeant major, first sergeant, and non-deployable staff positions (i.e. G1, G2, S1, S2, Asst S4, Asst S3, etc).
The CLASP Waiver Memorandum must be filled out before taking a command, leadership, or specific unit assignment that requires waiver.
2. Send the CLASP Waiver to the HRO Personnel Support. HRO will then route your memorandum to the TAG for signature. You will receive a signed copy for your records. Remember this is an auditable item, so please follow up with the HRO Personnel Support team for your signed CLASP Waiver.
DCPDS/MYBIZ/MY WORKPLACE
---
DEFENSE CIVILIAN PERSONNEL DATA SYSTEM (DCPDS)
MYBIZ/MYWORKPLACE
PERFORMANCE APPRAISAL APPLICATION (PAA)
eSF52
SELF SERVICE MYBIZ: EMPLOYMENT VERIFICATION
---
(CURRENT TECHNICIANS ONLY)
Employment Verification is now available thru My Biz for employees!
Employment Verification is a Self Service My Biz tool allowing employees to email employment and/or salary information to an external organization (business, bank, credit union) directly from the Defense Civilian Personnel Data System (DCPDS) – via secure internet!

Employment Verification allows employees to securely and conveniently provide proof of their employment and/or salary to an external organization or person. It's quick and easy – have the organizations or recipients email address on hand, and log into My Biz, select Employment Verification, and then Details to Share. Details to Share include two secure choices of information to send:
"Employment Information", provides Employee Name, Current Date, Job, Organization, Last 4 of SSN, Employment Status, Employment dates, and Rate of Pay
"Employment and Salary Information", provides the same employment information above, plus total salary.
To email Employment Verification information to an external organization:
Employment Verification is the employee's secure choice for quick verification of employment and/or salary information!
Log into the DCPDS PORTAL
Select, My Biz, Employment Verification
Select your Details to Share, either  Employment Information, or
Employment and Salary Information
Enter Recipient Email Information
Enter (verify) your work email address is included in Recipient Information 'CC' field to receive a copy of Employment Verification email
Select Continue to 'Acknowledge and Submit' to send your EV information.
Verification-of-Employment Flow Chart
Verification-of-Employment Example
FEDERAL BENEFITS (ENROLL)
---
The Army Benefits Center-Civilian website is where you can find out more information about technician benefits including Health insurance, Injury Compensation, Life Insurance, Retirement, Thrift Savings Plan (TSP), and Unemployment Compensation. This website also includes
The Employee Benefits Information System website is where technicians can view or change their FEHB (Federal Employees Health Benefit), TSP (Thrift Savings Plan), or FEGLI (Federal Employees Group Life Insurance). Here you can also various calculators for retirement, TSP, and severance pay due to involuntary separation.
NEW EMPLOYEE ORIENTATION (NEO)
---
Welcome to the Hawaii National Guard Full-Time Force!
This page provides essential information, forms, contacts and reference materials to help you start a great career. Here you will find various resources to help you begin your in-processing.
Here is what you need to know as a Newly Appointed Employee:
As a newly appointed employee, you are required to attend a one day New Employee Orientation (NEO) on the first day you report. NEO is held the Monday after a new pay period at the Human Resource Office unless told otherwise. We will start promptly at 0830 because of the amount of information needed to cover.

Technician Work Attire
Duty Uniforms will be issued in accordance with appropriate service regulations
Required rank insignia, name, service and organizational patches will be worn correctly
Title 5 NG Employee Dress Code (T5 Dress Code Policy 17 JUL 18)
Click on the icon below for more information on New Employment Orientation!
PAY ISSUE INQUIRY
---
Click on the "Learn More" drop down icon to submit your inquiry.  
If you are experiencing issues when submitting your inquiry, please clear your browsing history and clear the SSL state on your computer.
PAY & LEAVE – LEAVE ADMINISTRATION
---
Advance Annual Leave Guidance
Reference CNGBI 1400.25 Volume 630 Leave and Absences dated 6 August 2018, Enclosure B (6)
TAG's discretion to advance annual leave to an employee
Not to exceed amount of leave the employee would accrue within the leave year
Will not be approved if it is know (or reasonably expected) that the employee will not return to duty (i.e.-disability retirement)
Employees who separate from service are required to refund the amount of advanced leave that is not paid back
Employees pending separation will not be advanced leave which exceeds the amount that can be repaid by accrual before their date of separation
Advanced Annual Leave Requests Forms must be signed by supervisor and emailed to: [email protected] final HRO approval
Employee cannot be coded for advanced annual leave in ATAAPS until HRO approval
Advanced Annual Leave Request Form
Point of contact: HRO Benefits Section
Personal LWOP (Leave Without Pay)
You can take personal LWOP for various reasons.
It must be approved by your supervisor and chain of command. They will initiate a request for personnel action in DCPDS for your Leave Without Pay – Personal (NOAC, Notification of Action Code 460).
While on an LWOP status it will affect your FEHB, TSP, and possible your other employee benefits.
In ATTAPS you shall be coded as "KA" LWOP (Personal leave).
If you have a TSP loan, please fill out the TSP 41 form.
Please see the links below for more information.
TSP Loans: Non-pay Status
What is a non-pay status? 
Effects of a non-pay status on your TSP Account
LWOP and Insufficient Pay
SELECTION BOARD TRAINING (HING)
---
Purpose
The purpose of convening a selection panel for HING (AGR & Federal Technician)  hiring boards is to create an impartial panel to fairly and thoroughly examine an applicant's credentials. The selection panel is required to determine the "best qualified" applicant for an authorized vacancy within the HING. Complete their packets before the suspense date given to you by HRO; Board panel members must attend board training every 3 years.

Note: We no longer offer the Mobile Option. Please plan accordingly and come to the scheduled Board Training. (Dates are listed below.) You may contact HRO for a roster of individuals qualified to sit on your board or to be a Board Recorder.
Dates
18 December 2019 (0900)
27 May 2020 (0900)
29 January 2020 (0900)
24 June 2020 (0900)
26 February 2020 (0900)
29 July 2020 (0900)
25 March 2020 (0900)
26 August 2020 (0900)
29 April 2020 (0900)
30 September 2020
Fill out form below to sign up for the course!
Useful Resources
---
Board Recorder Checklist  (Applies to both the Federal Technicians and Air AGRs.)
Composition of the Selection Board
Example of a Communication Log
A Guide for Supervisors Effective Interviewing Techniques January 2018
Selection Board Training Presentation as of 20200107
Other:
POC:
Labor Relations Specialist: Mr. Yim (808) 672-1555
Deputy Human Resources Officer: Ms. Salvador (808) 672-1228
Click the "Learn More" icon for more useful resources and information about Selection Board Training.
Click here to learn more
Be a Certified Instructor! Train-the-Instructor Option
Criteria for eligibility: Must have had to be a part of three selection boards to be considered. If you meet the requirements, the trainee will then be required to attend three classes with the Selection Board Training Team. Attendance does not have to be consecutively attended. The 3rd session, the trainee will be expected to be the lead instructor before becoming a certified Instructor. Once you complete this, you'd be certified to give the training!
POSITION DESCRIPTIONS: How to Find your Position Description(PD)
BOARD TRAINING FAQs
Which regulation governs the conduct of the hiring board? For Army AGRs, NGR 600-5, paragraph 2-5 and AR 135-18, paragraph 2-4. Air AGR reference ANGI 36-101, chapter 4 and Merit Placement Plan.
Can the board select other than the number 1 applicant (highest score)? Yes, submit justification as to why the person who scored the highest would not be the most suitable person for the position. In case of an audit due to a complaint; be prepared to explain the scoring and answer questions that may surface.
Why is the composition of the board 3 or 5? Standard guidance for any government agencies and stated in the NGR 600-5 under composition of the board. Having an odd number of voting members will less likely to result in a tie.
Does the interview have to be weighted at 3? The State TAG made the determination a while back, and it has never changed. It is standard among technician and AGR hiring boards (Army and Air Force).
Do the Commander, supervisor, and reviewing official have to all be a board member? Yes, either they are all part of the board panel or be represented.
Does the board recorder have to go through the same training as the voting board members? Yes, all personnel involved in the conduct of a board must have a full understanding of the whole process. The board recorder is not a voting position.
What is required of the board if an applicant does not make the OML list? A memorandum of justification which made the applicant unqualified, and is usually drafted by the recorder.
How is it handled if an applicant does not respond when scheduling an interview? Document the times called and responded. If no show, then document "NS" (Tech) or a memo for AGR boards. The panel must still review application and award points in "Records Review" section.
What happens when an applicant is not within the commuting area? Must contact applicant and schedule time to conduct phone conference with the same Panel members.
Can an applicant challenge a board member? No, applicants do not have the right to pick who sits on the board or scores the interviews. If an individual feels his/her civil rights are violated, or the board acted improperly, he/she has the right to file a "stop hire" complaint with HRO. Board will continue, but members will annotate the problem. If the applicant later has a problem with the results, he/she can mention to HRO, and we can bring it up to the TAG.
Can I notify the applicant that they have been selected for the position? No, HRO will notify each applicant of the outcome of the interview. This process takes approximately 2-3 weeks. At no time does the hiring board panel notify the applicant. You can advise the applicant of the process. The selection recommendation will go through the command chain to HRO for approval.
Who is identified as the interview chairperson? The highest military ranking individual is recognized as the interview Chairman. This may not necessarily be the supervisor of the position being filled.
Is an observer allowed in the board proceedings for training purposes? No, all training will be conducted by HRO personnel.
Can one of the voting members also serve as a recorder? No, it is not ideal to have a voting board member also serve as a non-voting recorder. BUT, if you have exhausted your search and no one is available, you can do so as an EXCEPTION to the rule with HRO concurrence.
Can the board members contact an individual who has written a letter of recommendation? No, they should not. When you are scoring the applicant, you should just be looking at their packet and the individual at their interview and nothing more. And besides, you will need to be fair all around, therefore what you do for one you would need to do for all.
SUPERVISOR TRAINING
---
Congratulations to our supervisors for successfully completing the November Technician Personnel Management Course (TPMC)!
---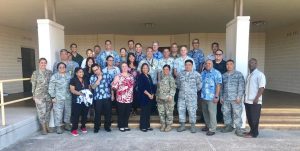 TMPC  December 2019
---