Hawai'i Department of Defense Community Support
State of Hawai'i Department of Defense
Community Support
The State of Hawai'i Department of Defense welcomes the opportunity to connect our communities with the mission
and capabilities of the Hawai'i Army and Air National Guard. As a community-based organization,
the Hawaii National Guard supports and participates in events throughout the State of Hawai'i to benefit our
citizens and give them insight into their National Guard. All efforts will be made to support
legal requests for assistance, however explicit regulatory guidance specifies the type and timing
of the support that we can provide. All requests are also subject to various State and Federal ethics rules and
regulations and must be properly vetted prior to approval.
Also, please keep in mind that the National Guard is for the most part a part-time force, which serves
our communities, state, and nation in times of need. As such, the Hawai'i National Guard requires that
requests for support be submitted at minimum:
90 days in advance for personnel and equipment requests
45 days in advance for facility use requests
We try to fill as many
of support requests as possible, however, operational commitments take priority and may supersede a
request. All requests for assistance must be submitted through this website. A customer may be responsible
for some costs of support. Reimbursement for support will be handled on a case-by-case basis. You will
be notified prior to receiving support if reimbursement is required.
Eligible Organizations
Any Federal, Regional, State, or local governmental entity
Charitable and non-profit organizations
All military requests, including the Active Duty or Reserve elements, for Hawai'i National Guard support must be routed through the requesting unit's chain of command, and then to TAG. For example, Army requests should be routed through the requesting unit's chain of command to USARPAC, who will then request HING assets if required. For future planning purposes, submit support requests for personnel or equipment support to the Adjutant General for the State of Hawaii at least 90 days prior to execution. Submit facility requests 45 days prior to intended use. This will provide the HING with enough time to process your request.
Facility Requests
Type I: A national guard unit or other county, state, or federal governmental agency
Type II: A non-profit or eleemosynary (charitable)
organizations conducting a community or group activity.
Type III: A film production enterprise seeking to use
State Department of Defense-controlled facilities and grounds for filming or photographic activities
Ineligible Requests
Primarily fund raisers
Events that are not open to the public
For-Profit Organizations
Partisan political events
Submitting Requests
To submit a request, fill out our Request Form, and send it to . Include a point of contact that
is responsible for coordinating with the Hawaii National Guard as well as the date of your event and details about what you are requesting. Once again, please send
requests for personnel and equipment at least 90 days in advance, and at least 45 days in advance for facility use requests.
Services Offered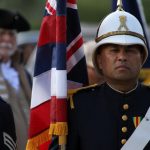 Royal Guard
The Royal Guard, a ceremonial unit which wears the historical uniforms and accouterments of King Kalakaua's Royal Guard.
111th Army Band
The 111th Army Band can provide music for public ceremonies and special events around Hawaii.

Parade Entries
Troops in formation or military vehicles pay tribute to the community's investment in safeguarding Hawaii and the nation.

Guest Speakers
The Hawaii National Guard is capable of providing public speakers for schools, service clubs, and civic events around the state.

Flyovers
Hawaii National Guard aircraft are available to perform flyovers for approved events.

Other Non-Emergency Military Support Requests
The Hawaii National Guard can provide equipment or personnel to support other non-emergency military support requests.

Honor Guard
Honor Guards can be established for the purpose of rendering military honors at public ceremonies and special events.

Facility Use/Rental
Hawaii National Guard facilities are available for use or rental.

Equipment Displays
Hawaii National Guard equipment is available for display in conjunction with community events.

National Guard Volunteers
Special event organizers may request volunteer assistance from Hawaii National Guard Soldiers and Airmen.

Film Requests
With our varied terrain, spectacular ocean views and historic military structures, we can provide you with a space that meets your filming needs.