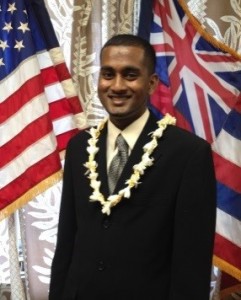 At nine years old Anthony V. Selvanathan's father walked away from his family, leaving him without a male influence in his life. Because of this, he grew up disrespecting others and constantly fighting with his mother. Struggling with self-discipline, Anthony found academics in middle and high school extremely challenging so, in February of 2010 he applied to the Youth Challenge Academy at Kalaeloa. Anthony arrived at the Academy on July 19th, 2010 at nine o'clock in the morning for in-processing and by ten he wanted to leave. Throughout the program's two-week Pre-Challenge phase, he struggled with his desire to quit but after graduating to the Challenge portion of the program, he was convinced he could be successful.
By the seventh week, he successfully ran for Cadet Government President and started a peer-tutoring group, which provided over 400 hours of peer-tutoring, resulting in Class 33 being the largest class to graduate in the Academy's 16 year history. As a result of his actions, Anthony was awarded the Distinguished Cadet Medal by the Governor of Hawaii, in addition to numerous recognition ribbons for Pre-Challenge, Inspection Excellence, Student Government, Good Conduct, Academic Achievement, Meritorious Service, Parade Excellence, Community Service, Special Services, and Mentor Match. He was also awarded the Career Placement Badge, Participant Physical Fitness Award, Academic Achievement Insignia (with wreath and 5 Stars) and a Gold Shoulder Cord for his position as Cadet Class President.
Upon Graduation, Anthony continues to positively shape his future by taking the leadership skills he learned at the Academy and applying them as a student at Chaminade University in Honolulu. While earning a Bachelor of Arts Degree in Religious Studies with a Minor in Psychology, Anthony was selected to represent Chaminade University in Los Angeles and New York at seminars for Community Service Opportunities and Urban Immersion Experiences. He is a volunteer at the Cathedral of Our Lady of Peace and a Minister of Ceremonies at the Diocese of Honolulu. Anthony's future plans include attaining a military commission and serving his country in the United States Air Force upon graduation.